In spring, Liepāja's Central pharmacy, the biggest one in Liepāja district, witnessed huge transformation. It started its way to the new concept with ideas about some minor changes, which later transformed into new arrangement, new attractive design and special innovations, as well as more ideas about development in the future.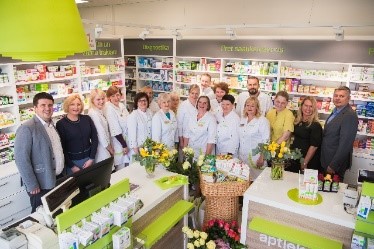 The pharmacy's manager, Inese Vīriņa, comments on these changes: "The pharmacy had its arrangement, furniture as well as location of medicines changed. The showcases with products are replaced with shelves. Before, the medicine warehouse was a half-storey up, but now most medicines are located on the same level, which makes finding and issuing the necessary medicine faster and more convenient. The lighting has been also changed – now the premises are brighter, and decorative lamps give a new accent to the pharmacy's interior design."
There is also a special innovation, such as the queue machine where you can get a queue number, and this innovation has been already appreciated by several clients of the pharmacy. They have no longer to wait for their turn to come, but can sit down and wait comfortably. The system also gives you the possibility to ask the pharmacist all the necessary questions, without worrying that the client behind you will listen to your conversation.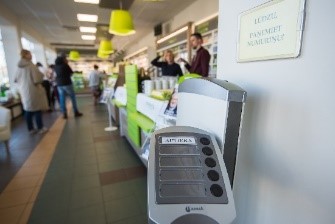 The Central pharmacy will not stop at this change and will move further towards new improvements. At present, the pharmacy has three cash registers, and a fourth may be opened in the nearest future.
All changes in pharmacy were done with a strong support of Tamro Latvia, sales, category, retail, marketing departments experience and knowledge. Aleksejs Borodulins (Tamro Latvia Head of Sales) comments: "This Tamro implemented project with the biggest aptieka 1 member pharmacy will strengthen joint cooperation and expand opportunities of both partners for business development and customer service".